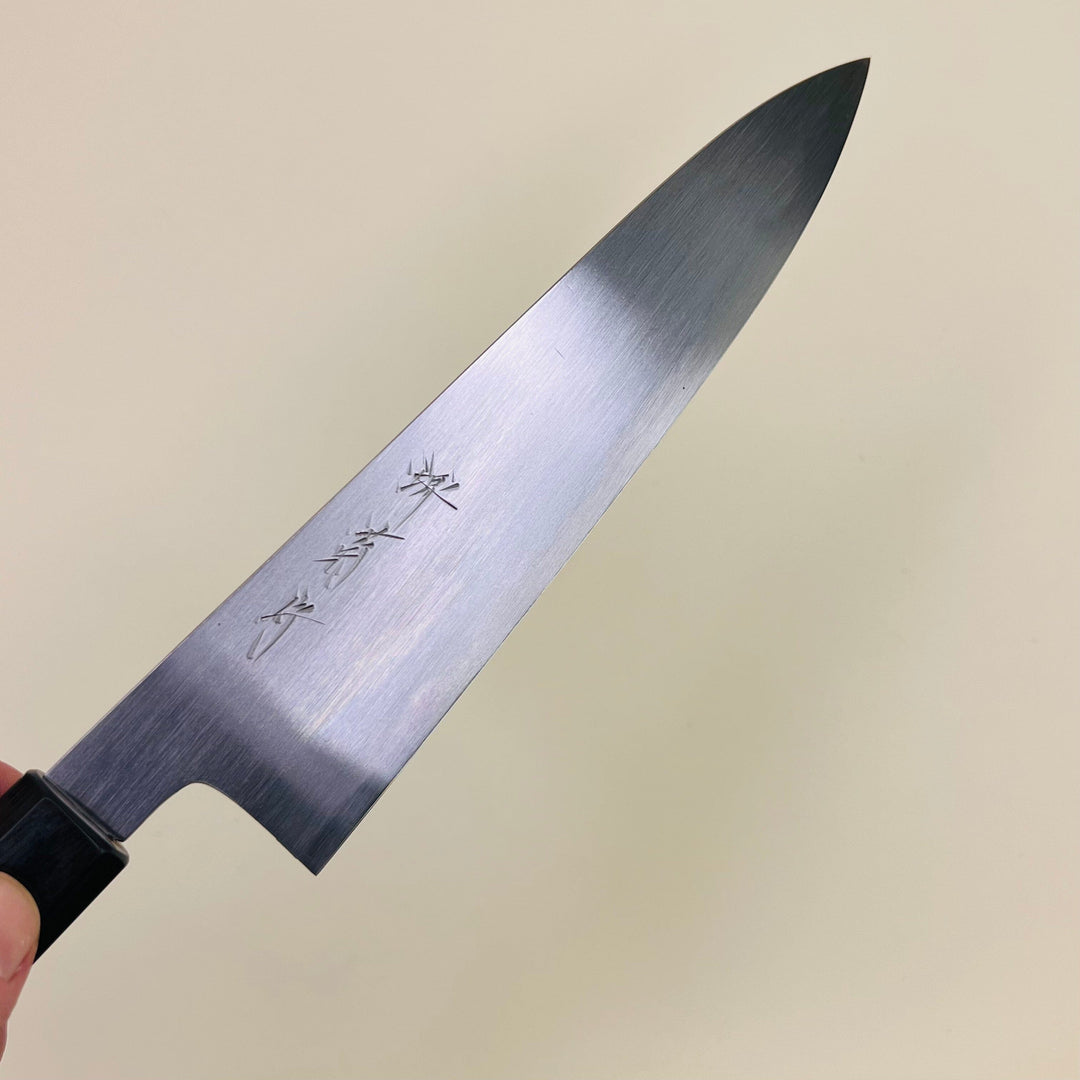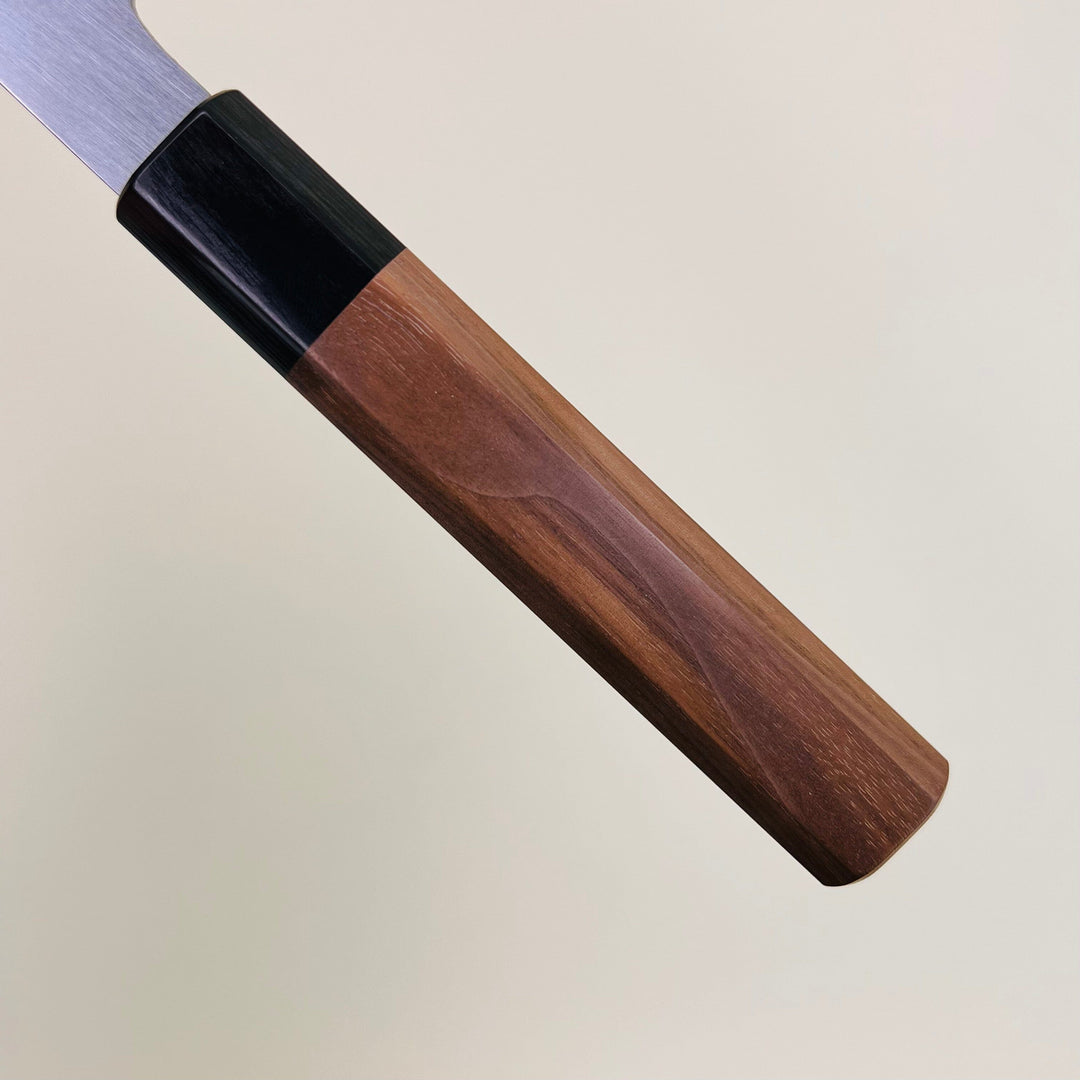 Sakai Kikumori - Gokujyo Gyuto 210mm
---
The Gyuto is Japan's answer to the western chef knife, in a country where the food culture has given birth to a myriad of highly specialised knives with specific jobs, the gyuto is an all round knife to cover all the bases. It was created in the latter part of the 19c after the son of a prominent Japanese blacksmith visited the west to investigate new knife making technologies, he returned with a few samples and a load of ideas and ever since then it has evolve into the hugely popular style we recognise today.
Forged by Yoshikazu Tanaka, one of the most respected blacksmiths in the Sakai region, the Gokujyo line is an exceptional range of knives, capable of taking and holding a great edge. Finished to an excellent standard they 
would make a great choice for keen home cooks or professionals working within the industry.  Lovely and thin behind the cutting edge.
Like many of the Japanese knives we sell at Community Cutlery, the Gokujyo range is made with a traditional San Mai construction, in this case comprising of a white #2 carbon steel core with a soft iron cladding. Forging the metals together in this way helps to utilise the best points of each metal type, a hard steel core provides great sharpen-ability and edge retention, making it great for slicing and cutting and then the softer metal cladding brings it's greatly increased shock resistant qualities and helps make the blade an all round more robust tool, reducing the likelihood of it breaking. 

Gyuto 210mm
Blade Material – White (Shirogami) #2 Carbon Steel 
Handle Material – Walnut
Blade length – 210mm
Total Length – 350mm
Blade Height – 45mm
Weight – 150g
Hardness – 62-63 HRC
Sakai, in the Osaka region of Japan has been a thriving hub for Japanese blade making for over 600 years. Sakai Kikumori, itself approaching 100 years in business, continue to work with some of the areas most skilled craftspeople to produce a broad range of high end cutlery.
A note on carbon steel - Like many others we at Community Cutlery favour carbon over stainless steel for its ability to take a keener edge and hold it for longer, for this privilege we need to care for our carbon products with a little more consideration, particularly when it comes to washing. Once you've finished with your knife (or even during use if you've a long prep session ahead of you!) we recommend giving it a quick wash and a thorough dry, as if left wet it will start to rust, surprisingly quickly. If this does happen then take a dry scourer and lightly give it a rub, another rinse and a good dry, it should come off with relative ease. With use you will also notice a light change in the colour of the blade, this patina is natural, beautiful and to be cherished, it's like your knife developing its own fingerprint!
And for many reasons - Never put your knives in the dishwasher
Knives are only available to persons over 18 years of age. Due to the nature of our business ALL customers will be asked to prove their age at checkout.
We ship Tuesday to Saturday using Royal Mail Tracked 24.
All knives ship via an age verified service in accordance with The Offensive Weapons Act 2019, which will mean the postie will need you to be in to receive the delivery & to check your ID if you look under 25.
The law also requires us to carry out a soft age check of the purchaser after checkout, this is done by an automated system that usually doesn't require your input, although we will need to contact you for proof of age if you fail, which can sometimes happen if you use a work address.
We offset the carbon created by our business