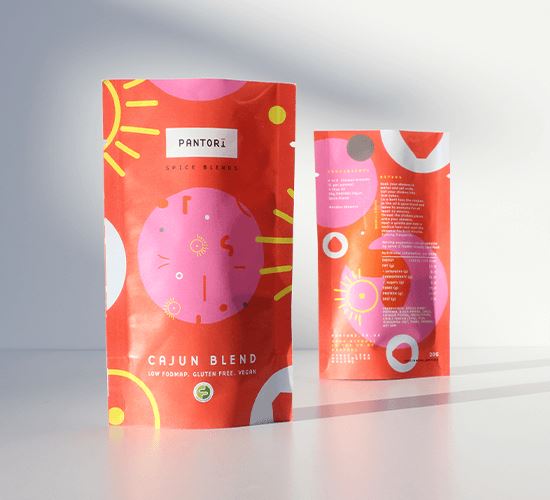 Pantori - Cajun Spice Blend
---
CAJUN IS A MELTING POT OF CULTURES AND CAJUN SEASONING IS A TRUE BLEND OF ITS PEOPLE WITH EACH CULTURE PLAYING A PART IN THE FLAVOUR WHICH COMES TOGETHER AS ONE. BOLD, WARM, SPICY AND HEARTY.
WEIGHT: 20g / 100g

INGREDIENTS: Spices (sweet paprika, black pepper, cumin, cayenne pepper, white pepper, chilli flakes) (79%), pink himalayan salt, thyme, oregano, bay leaf
The Acadian story begins in France and ends down by the Bayou in Louisiana, where a melting pot of cultures became the Cajuns.

In 1604 descendants of the French began settling in Acadie, now Nova Scotia. Exiled by the British they embarked on a long journey leading them to the Bayous of Louisiana. The Acadians, living off the land, were confronted with a new climate and different ingredients. This meant their traditional French cuisine changed, with the replacement of carrots with bell peppers in the "Holy Trinity" and the introduction of more exotic spices like black pepper and cayenne, and the addition of paprika from the Spanish.
The Acadians became Cajuns as they adapted to their new home and its people. The blend of diverse cultures and influences from the American Indian, African American and European descent, each brought new skills, cooking style and flavour, once again changing their cuisine.
Cajun seasoning is a true blend of its people, together they brought aspects of their cultures and cuisines and over time became one. A true example of a melting pot.
PRODUCED AND PACKAGED ON A PREMISES WHICH USES CELERY SEED
ALL OUR PACKAGING IS PAPER RECYCLABLE.
We ship Tuesday to Saturday using Royal Mail Tracked 24.
All knives ship via an age verified service in accordance with The Offensive Weapons Act 2019, which will mean the postie will need you to be in to receive the delivery & to check your ID if you look under 25.
The law also requires us to carry out a soft age check of the purchaser after checkout, this is done by an automated system that usually doesn't require your input, although we will need to contact you for proof of age if you fail, which can sometimes happen if you use a work address.
We offset the carbon created by our business